IN THIS TOGETHER: Anxiety Edition
Learn. Listen. Connect.
Developed by world-renowned psychotherapist Dr. Courtney Tracy, In This Together: Anxiety Edition is the first and only card-based experience that guides conversations about mental health disorders towards deeper connection and healing.
Decks Have Sold Out!
HEALING MENTAL HEALTH THROUGH CONNECTION.
Our debut In This Together: Anxiety Edition includes 50 therapy-based questions broken down into three intentionally separate sections meant to help you Learn, Listen, and Connect with your loved ones about their or your anxiety. Each card was consciously developed to allow you to begin healing your mental health through connection.
Who Is This Experience For?
In This Together was created for relationships of all kinds: caregiver-child, partner-partner/s, friends, co-workers, groups, and more. We are all capable of connecting with one another on a deeper level. We recommend companions be at least 13 years old because of the complexity of some of the questions.
*This product is not intended to replace therapy or treatment services for anxiety. It can be an adjunct product and/or a tool to connect and discuss your mental health with others.
Participate
To begin playing, choose one or more persons that you want to support or that you'd like to support you with anxiety.
Set The Tone
Set your intentions for the experience. If played slowly and intentionally, the outcome can be life-changing.
Directions & QR Codes
Play each card in order 1-50. Scan the QR codes on each card for specific guidance from Dr. Courtney Tracy.
Section 1: LEARN
Gone are the days you try to help someone or yourself with something you know little to nothing about. In Section One of our Anxiety Edition, you'll learn what you and your companions really know about anxiety (and whether or not you got the answers right)!
Knowing you don't know is the first step to knowing.
Section 2: LISTEN
Section Two of our Anxiety Edition is all about telling the truth about what anxiety is like for you. It might be mild, it might be extremely debilitating. The goal here is to listen to each of your companions experiences with anxiety while they listen to yours.
Everyone experiences anxiety differently.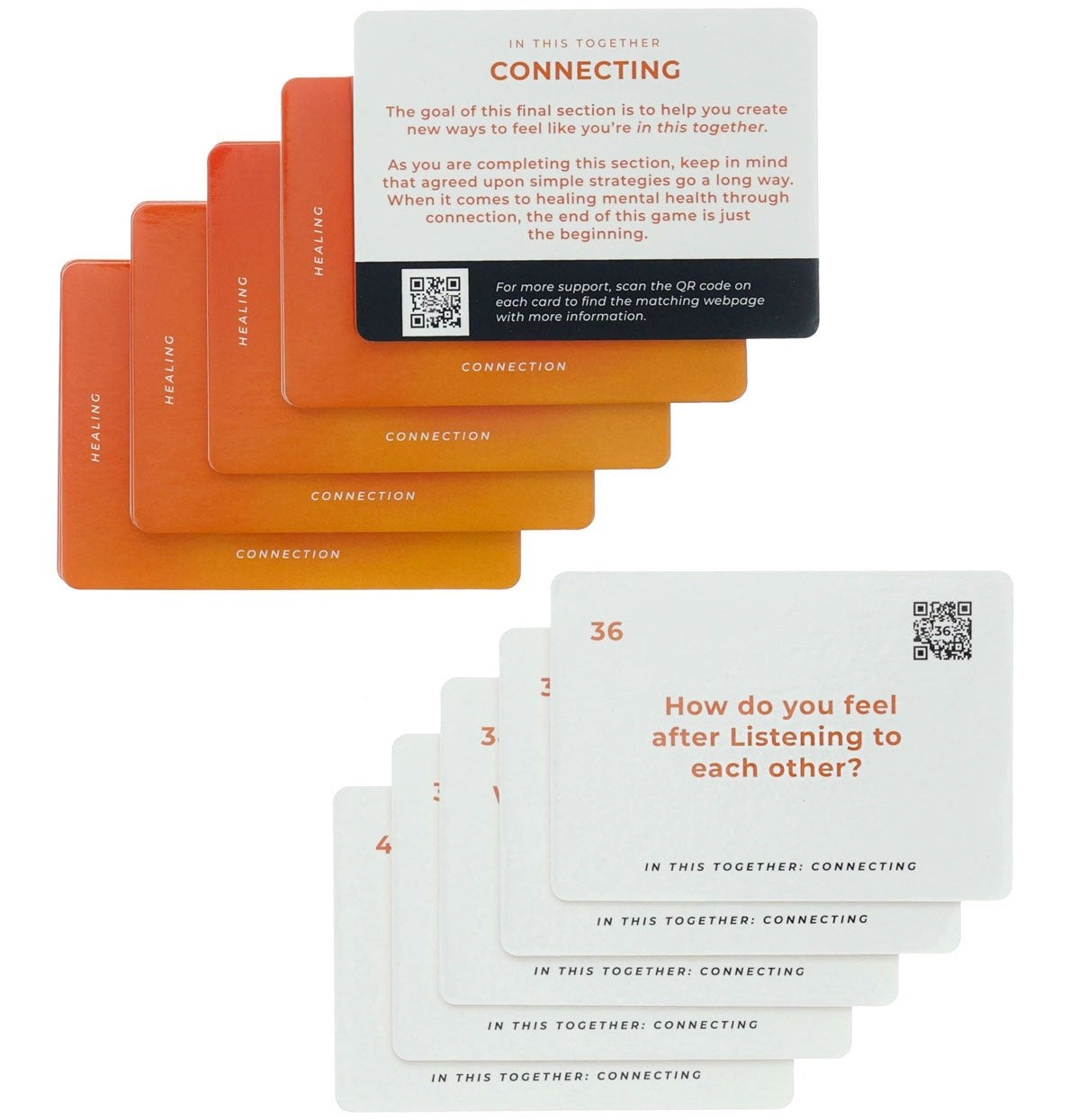 Section 3: CONNECT
The final section of the deck is where you integrate what you've learned and listened to throughout the first 35 questions. Develop agreed-upon simple strategies to help heal your anxiety through connection with your companions.
You deserve this. You really do.
OUR STORY
Our card decks were created out of a personal story that became recognized as a professional need.
Knowing what it's like to have difficulty connecting with family members who do not understand her own anxiety and hearing about countless missed opportunities for connection during her clients' conversations with others, Dr. Courtney knew there needed to be an accessible and affordable way to have a therapeutic and connective conversation with your loved ones outside the therapy room.
GOT QUESTIONS?
In This Together is just getting started. Check out our FAQ page to learn more and get your questions answered!
VIEW THE FAQ
Get our Support Journal too!
Intended to be used in tandem with our In This Together: Anxiety Edition Card Deck, this support journal can be utilized to strengthen you and your loved ones' experiences while engaging in mutual reflection. You can jot down the emotions that come up for you while 'playing' or you can free-write after the session is finished.
Get Notified On Future Editions
Within the next year, we plan to develop our second & third editions:
Depression and Addiction
There will be limited quantities of all editions so sign up today!
*we will never spam you or sell your information.
What is the story behind In This Together?
How do you see therapists and treatment providers using the decks?
Do you play the whole deck in one sitting?
Can you play the deck more than once?
Do you ship internationally?
Can I order some for my store?